Ashwagandha is known as Withania somnifera. The written records of the medicinal importance of this plant are traced back to Ayurveda. The dried powdered form of roots has been said to be in use as a medicine in ancient India but no enough clinical evidence is available for the same. The benefits of ashwagandha are limited to the endocrine and Central Nervous System. The export of ashwagandha from India has not been seen much. It's one of those spices which is not really used in a lot of cuisines. Countries importing ashwagandha from India are a few to name, changing constantly upon the time.

What is Ashwagandha?
Ashwagandha is a short perennial shrub that grows to about 35-75 cm. It's also called winter cherry. The ripened fruit from the Ashwagandha plant is orange in color and the flowers are green. Ashwagandha's roots are mainly used as a food product. The roots are dried and crushed to form a powder. The word ashwagandha is derived from two Sanskrit words- Peshwa and gandha. Ashwa stands for horse and gandha for the smell. The literal meaning of those words stands for the fact that the roots have a strong smell like that of a horse.

How is ashwagandha taken?
Now that we know the essential things related to ashwagandha, let's move on to find out how to use ashwagandha. There are two main ways in which one can consume ashwagandha. They are as follows:

Traditionally, the roots of ashwagandha were dried and crushed to form a powder that was mixed with warm milk or honey.

*Ashwagandha can also be used in tea. The powder is supposed to be added in boiling water, then ginger is added to it. Later on, honey is added for taste.

Ashwagandha dosage should be limited to ½ or ¼ teaspoon of its powdered form.

Health Benefits of Ashwagandha
The benefits of ashwagandha are not just limited to it's the flowery scent of the bell-shaped leaves. The roots, as we know, are the main medicinal part of the plant. Listed below are some of the chief uses of ashwagandha:

Ashwagandha helps in increasing insulin in the body. It's particularly important for diabetes patients.

Have Anti-Cancer Properties
Ashwagandha shows to be an immune booster, killing cancer germs effectively. Though these studies are not effectively tested in humans, trials have been effective and positive in animals.

Help in reducing Stress & Anxiety
The intake of ashwagandha helps in reducing cortisol levels, which is the stress-reducing hormone in the body. And hence, it effectively works on anxiety.

May Reduce Symptoms of Depression
In a study performed on 64 adults, it's shown that 600mg of concentrated ashwagandha intake can reduce depression by 79% if taken for 60 days.

Out of the other benefits of Ashwagandha, one more is the ability to enhance the better functioning of the brain. It helps to make the brain more useful than what it was.

Increase Muscle Mass and Strength
It is proved in a study that was conducted on men for 8 weeks that consuming 500gms of the ashwagandha powder can increase the power of their muscles by 1%. Ashwagandha is rich in such supplements.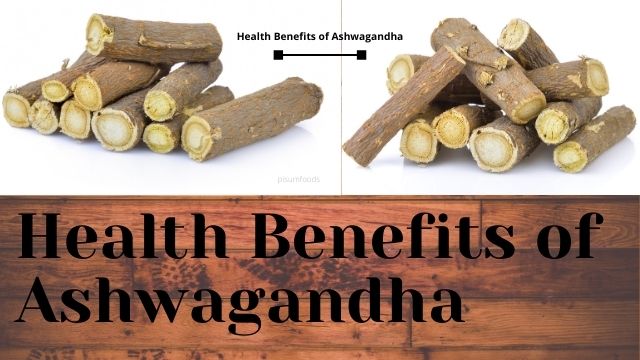 What are the side effects of Ashwagandha?
As a matter of fact, every coin has two sides, and so does Ashwagandha. Despite being familiar with its many benefits, Ashwagandha has some side effects that we should know before it's consumption.

Ashwagandha is fairly safe food but if taken for a long period of time, it's a threat for good health too especially patients suffering from Diabetes or liver diseases.

Ashwagandha is quite good for skin, but it's clinically acclaimed that some people might catch rashes of itchiness from its use, probably some kinds of an allergic reaction. So one should definitely keep their skin in check while using Ashwagandha.

Precautions to be taken
In Pregnancy & Breastfeeding

A larger amount of ashwagandha, which is more than ½ or 1 spoon is not allowed to pregnant women or women who are breastfeeding. Precautions should be taken as to not consume in excess as it leads to contractions in the uterus.

As ashwagandha is good for insulin production in the body, it can be proved fatal for a diabetic person to have ashwagandha in any kind of excess amount.

For High or Low Blood Pressure
Ashwagandha can reduce the blood pressure which can cause chaos if someone with low pressure consumes it or so. It should be taken with proper dietary advice.

Doctors advise that a person should stop taking ashwagandha at least 14-15 days prior to surgery as it slows down the CNS.

If a person has issues with the blood pressure, ashwagandha should be avoided as it messes with the gastrointestinal tract causing stomach problems.

Ashwagandha for thyroid patients is a boon as well as a curse. Where studies show that it can help patients with hypothyroidism, it's also proved to conflict with the symptoms of hypothyroidism. So it should only be consumed by thyroid patients with doctors' advice.

Ashwagandha as an Adaptogenic Herb
Adaptogens are non- toxic plants that help reduce stress and depression in the human body. Ashwagandha is one such herb. It has proved to be a herb with properties that can help the mind and the body in various ways like dealing with stress, depression, and others. It reduces anxiety as well.

How to Add Ashwagandha to Your Daily Diet?
Ashwagandha can be used daily in minimal quantities. It helps in regulating the sleep cycles of the human body. It can be consumed before bedtime with milk or honey or basically with water. As it lacks taste and flavor, Ashwagandha cannot be used in meals or baking. It's like a medicine and it's consumed like a medicine only.

Export Details of Ashwagandha
The export of Ashwagandha has seen a good market globally. India is one of the main countries for production. From the number of Ashwagandha exporters from India that I've read and checked off, the best according to me is Pisum. The import of ashwagandha from India is majorly done by New York port. The export of Ashwagandha from India is carried out by 36 ports, the main of which is Hyderabad Air Cargo export.

Exporters of Ashwagandha from India are a few to name, the best from them being Pisum Food Services Private Limited. They are well versed with the global market and the know-how of exactly what commodity is demanded and where. They have brilliant skills with packaging, storage, and preservation of all the commodities that are imported or exported by them. They have a reliable customer service that is available for use around the clock. The team makes sure that everything is delivered garden-fresh because that's the quality of nutrients best served.