Eat like a top trainer. Yes, you heard it right. Trainer, have you ever wondered what trainers actually eat, how they are so fit and full of energy all the time? No doubt they workout hard, but unless you have a perfect diet your workout is of no use. Your diet should have food which is full of nutrition, vitamins, protein, fibre, etc., and what is better than to add chickpeas in your diet for this. Even consumption of chickpea leaves will add nutritional benefits to your diet. Isn't it great???
About Chickpea
Chickpea is a type of legume which has a history that dates back to 7500 BC in southeast Turkey. It then spread to the Mediterranean region around 6000 BC and came to the Indian market around 3000BC. It is also famous by the name of Garbanzo bean, Bengal gram, Egyptian pea, and in India, it is known as Kabuli chana. Chickpeas are round and are beige. However, there are also varieties among colours like black, red and green colour, which differ in nutritional values. Chickpeas are grown in tropical and subtropical regions like any other legume. Their texture is slightly grainy. They are nutty and creamy in taste and are the base flavour for many dishes.
Over the World
Chickpea is an important and popular food in India, Africa, South and Central America. India is the largest producer of chickpea contributing 70% of global production, while some of the top producers are Australia, Pakistan, Myanmar, Turkey and so on. Talking about India, Andhra Pradesh is the highest producer state wise.

Chickpeas are among important peas in northern India viz., Punjab, Uttar Pradesh, Haryana, Maharashtra, West Bengal and many others. It can be cooked directly or consumed in the form of flour.
Health Benefits of Chickpea
As we know, the greatest wealth is health. The king of pulses, assures you with several health benefits. Let's have a look at the core of the chickpea kingdom:

They help in improving digestion; helps control weight management. Chickpeas have a moderate amount of calories and are loaded with vitamins and minerals. They are also a great source of fibre. Thus, chickpeas are useful in weight management.


They are high in protein and are an absolute replacement for non-vegetarian food with vegan options. Being rich in protein and fibre, chickpeas are also a great filling food. Chickpeas also help to improve your bone health due to a large amount of protein in it.


They help in controlling blood sugar level as there is an adequate amount of fibre and protein. They have a fairly low GI (Glycemic Index). This index shows how rapidly your blood sugar rises after eating food. Due to various properties of chickpeas, they can help you to manage your blood sugar levels.


They have such good benefits which result in curing some chronic diseases such as diabetes, cancer and heart problems. Chickpeas are also said to be useful to treat any digestive issues that may arise by increasing the number of healthy bacteria in your gut.

These benefits reminded me of an aphorism, i.e. the stronger the core, more protective it is!!
Rise of Chickpea
Now, you might be wondering how come this little chubby figure, can make its presence across the globe? So, here it goes, there has been a 4-fold increase in the global trade scenario of chickpeas in the past two decades. Not only this, but the global market is also estimated to register its CAGR (Compound Average Growth Rate) at 4.8% during the period 2020-2025. The chickpea holds the third position among the most important pulse crops grown in the world and also accounts for 20% of the global pulse production. Chickpea could be an opportunity crop, for uplifting the Indian economy and also it can help the farmers of our homeland. And, for your kind attention lords and ladies, around 14.78 million metric tons of chickpeas were produced worldwide in the year 2017.
Culinary Uses of Chickpea
Let me introduce you, the king of pulses i.e., Chickpeas, as Mr Versatile. Yes, you can read it all aloud, that chickpeas hold their position in the market as a versatile pulse. So, while enjoying the new tag, the king is willing to serve you all with various delicacies, famous across the world. Meanwhile, we will all be benefited from a lot more information about chickpeas. So, let us settle down on our tables!!

So, from the birthplace of the king, let us try nohut salatasi (chickpea salad recipe) which is abounded with Turkish spices like sumac (tangy spice with a sour acidic flavour), nareksisi (sticky syrup of sour pomegranate) fresh lemon juice, and finely chopped mint leaves. Now, imagine all these mixed into the bowl of your chickpeas! And enjoy this yummy summer salad from turkey.

For the next meal of the day, the king is willing to serve us with a morsel and healthy recipe from France named socca. Socca takes time to get cooked. Meanwhile, let's learn about its ingredients. To prepare this famous delicacy from the streets of France, we need chickpea flour, olive oil, and a pinch of seasoned spices (ground pepper, chilli pepper) altogether. Further, it is mixed and then cooked on the fiery grills. And here you go! Enjoy your plate of socca having a crispy texture with blistered surface and creamy interior.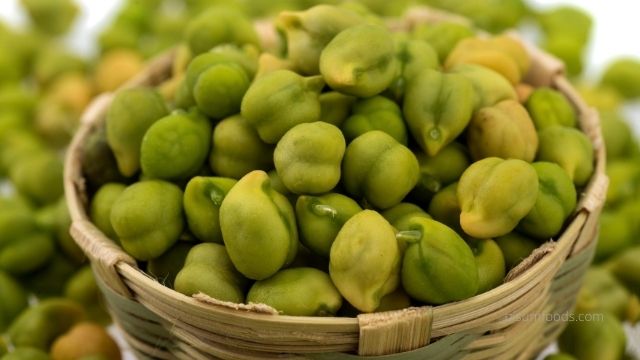 Now, let us not wait for the orders of our king, as this time let me take you to one of the most beautiful destinations, Greece, for a light evening snack i.e., soup. The chickpea soup is also known as "revithia soup" which is one of the most popular soups of Greece. And, let me amaze you with one of the amazing facts about this. It is prepared in a clay pot called skepastaria or tsoukali which makes this soup mark its own traditional history. Now, all the ingredients like spring onions, chickpeas, olive oil, baking soda, lemons, a pinch of pepper and salt, and also some coriander leaves are together put down in the pot, until it turns into a velvety soup. So, now it's time to have a bowl of this traditionally made velvety soup of chickpeas with a delicious tangy taste.

Now, for the last meal of the day, the king is willing to serve you all with the Punjabi style chickpea curry known as chole recipe from the delicacies of India. And, some aromatic and traditional ingredients for this are cloves, garlic, ginger, bay leaves, cardamoms, and some hot Indian spices like red chilli powder, turmeric powder, and garam masala. Now, imagine all these traditional Indian spices mixed in the chickpeas curry and later garnished with a squeeze of lemon, some coriander leaves and finely chopped onions on your table!

Another popular way of adding chickpeas in your diet is by adding them to salads, sandwiches, which can bring that nuttiness and crunchiness in your snacks and so much goodness to your diet. There are many famous dishes too which are made up of chickpeas such as Ragda, three-bean chaat, chickpea stew with Moroccan spices giving you north African taste, hummus, falafel, chickpea hash, chickpea wraps which gives you a Mexican twist with chickpea fajitas and much more goodness to your diet.

Well, now it seems that our kings have served us well, with its versatile attributes, the whole day. So, now, what are you waiting for?

Try this little package with higher values and get yourself a healthy and nutritious diet plan by counting various delicacies from across the world. Be it chickpea soups, chickpea salads, chickpea mousse, chickpea pudding, chickpea nutty crunch, chickpea chaat, chickpea flour bake cookies and cakes, and chickpea curry, or any other tasty delicacy.

In a nutshell, in the culinary world, chickpeas hold a strong and stable position across the world due to its versatile attributes. And, hence, are consumed in many different ways across the globe. Also, it is worth noting that increasing the consumption of chickpeas in this way in developed countries is expected to boost the global market during the forecast period.

Well, as of now, we know that India is the highest producer of chickpeas in the world due to its high demand in everyday food or snacks, even as dietary food and increasing necessity all over the world. Here comes Pisum Food Services PVT LTD., to the rescue, the company which adds more value to this little chubby package of goodness by assuring quality chickpeas from across the globe to add nutritional value to your diet. Pisum is the leading Chickpea importer from India. Pisum believes that Indian culture, food, flowers, and such other products should be spread to the entire world.

The executives at Pisum are trained to help and support our clients at each step of the export process. With the expertise and extensive experience in the export field, they make sure that the export of Chickpea is a hassle-free process for the client. If you are looking for exporters from India, Contact Pisum now!

Enjoy all the forms of chickpeas for staying healthy and nutritious!

And to learn more, keep reading, keep exploring. And also have some learning from Mr Chickpea, he says,

Good things come in small packages, as small as chickpea too!!