Once a beautiful little daughter and her mother were sitting and giggling over little things. The little girl was helping her mother in the kitchen chores and chopping vegetables, while her mother was giving her vegetable lessons about their names and colour by telling funny stories about them. The mother ensured that along with her work she is also teaching her daughter lessons.

They both were completing their tasks and enjoying themselves, but suddenly that little girl saw tears in her mother's eyes and was unaware of the fact that while peeling and chopping onions, tears came out of the eyes. Saddened, she started sobbing and asked her mother why she is crying? Her mother replied with a smile on her face that while peeling onions, our eyes always weep and then she asked her daughter why she is crying? Her little daughter replied sobbingly, "Because, you were crying." It was an onion that reflected the relationship of a mother and a daughter. With that information, she also taught her daughter the amount of nutrition that onions hold. The flavour and aroma of onions can turn any normal dish into a delicacy one. It is indispensable for many Indians because we cannot ponder about the cuisine and recipes, as without onions it is quite pyrrhic.
When it comes to varieties in onions, green onions are fully rich in Vitamin A & C, which help in increasing immunity. Red Onions help in keeping your heart healthy, and blood pressure normal. Brown Onions are anti-bacterial, whereas white onions carry high sulphur and high fibre & Leek Onions are rich with Vitamin B6 & antioxidant, which also acts as an anti-cancer element. The world is searching for its availability and the aroma it adds to the food. When it is added in any dish with its companions such as ginger, garlic, chillies, and so on, it changes the flavour of that dish.
Most controversial vegetable: Red bulb
Do you know who? How? When? Where? Onion is being produced? Have you ever thought that a vegetable will be so controversial in the world market? Everyone is talking about onions. These little bulbs hold so much power that it brings down the government to their knees and even some governments are crashing due to the prices of onion ever since 1980.
Interesting fact of onion
Let us check the fact file about the onions around the globe. China is the largest producer of onions and it cultivates majorly three main types of onions. The Chinese government is motivating their farmers to experiment with new techniques to increase the cultivation of onions. After China, India is the 2nd largest country in the world in the production of Onion. Indian onions are available round the year and they are famous for their pungent odour. India is also the 2nd largest exporter across the world. It has a suitable agricultural climate to grow onions and even have modern packhouses for packing and grading quality onions.

Majorly there are onion exporters from Maharashtra followed by Karnataka, Gujarat, Bihar and Madhya Pradesh and Pisum Foods is the leading exporter of food products from India. Pisum utilizes the diversity of India and Indian culture and reaches to the world by providing the best quality food products. It exports fruits and vegetables, grains and cereals, pulses, spices and herbs, oilseeds and floriculture. It has vast experience in the food industry.

When it comes to quality, the company has been accredited with several organizations that ensure international standards and quality is met. Top exporting countries where India exports onions are Malaysia, UAE, Bangladesh, Nepal and Sri Lanka. The third position is held by the US in the race of producing onions. The US top three state producers are Washington, Idaho-Eastern Oregon and California. Even Egypt, Iran, Turkey, Pakistan, Brazil and Russia are top players in producing onion.

Onion Price bringing Tears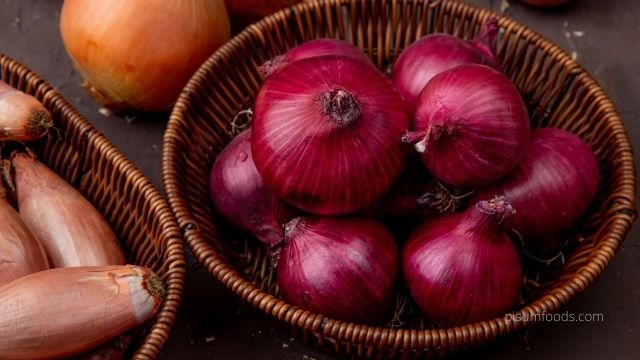 It is fascinating and surprising how once in a year, prices of onion accelerate and are on hike. It touches the sky and becomes a luxury for middle-class families and they need to cut down onions from their consumption pattern. It is even difficult for families, who are below the poverty line, to earn bread and butter for their livelihood, and thus, buying onions is next to impossible for them. The hike in price can be due to two reasons. A first possible reason could be a climatic imbalance, which is due to shortage or heavy rain or late harvesting of onions.

Secondly, hoarding is the primary cause of inflated price of onions which creates an acute shortage in the market and due to this the prices of onions increase and create a hole in the common man's pocket. All the inflated amount goes to the pocket of traders, and farmers get no profit from this as they sell onions at very low rates as compared to the inflated rates. It's just a part of creating an artificial shortage of supply but the government plays an important role in this as they have buffer stock. They use these stocks to avoid situations of a shortage of products and inflation of prices in the country.

There are so many producers around the world but still, we face a shortage of supply because the demand for onions is increasing day by day and per capita income of people is also increasing. The world is very small and is connected globally. Hence, a crisis in one big country would also affect other major countries. Every big country facing such problems can see the news headlines like "Extreme onion season with small harvest and high prices", "Price has doubled", "High demand causes inflation in the country" "Market at a turning point" etc. Increasing price and shortage of supply lead to creating tensions in the country. Everyone is trying to find new ways to increase the production of onions and developing hybrids that can increase or double the production of onions. After applying new techniques, it is estimated that onion will be available at reasonable prices.