In Tamil Nadu state, most of the dishes are prepared from the curry leaves. The reason is its smell, medicinal properties, and taste. That is why, these curry leaves have always been valued in the Indian markets. Nearly, hundred acres of land is being cultivated under curry leaves in the districts like, Coimbatore, Mettupalayam and surrounding areas of Karamadai. Almost every farmer there makes use of chemical inputs in their agriculture, while some people have attempted to make a difference too. MR NANDAKUMAR, who belongs to Mankala Karaipudur village, Karamadi, is a progressive farmer who has attempted to cultivate organic curry leaves.

Since most pests do get attracted to curry leaves because of its smell and greenness in nature, Mr Nandakumar has still managed to keep the crop good without the use of chemical fertilizers, and instead has adopted organic ways for all these years. With his knowledge about organic farming, he uses only organic inputs such as panchagavya, bio pest repellent, farm yard manure, neem cake and cow horn manure. Not only this, he has also managed to control curry leaf diseases such as leaf folder, leaf spot, molds and root rot. Seeing this, many farmers in the area are now working for organic curry leaf farming and are slowly moving towards the methods of organic farming. Mr Nandakumar has not only promoted and inspired organic farming, but has also introduced a new concept to the lives of many farmers.

Mr Nandakumar goes green, eats green, lives green.

Here, now it becomes important for us to understand the term "organic", so that we too, like Nandakumar, can contribute to society and nature.

Definition of Organic
The term organic means working with nature. It means higher levels of animal welfare, lower use of pesticides, no manufactured use of herbicides or fertilizers. To be specific, it aims at environmental and sustainable development which means more wildlife. Whatever we buy – from cotton to carrots everything that is organic, indicates that we are choosing products that are promoting a better world.

TO SUMMARISE:
Use of fewer pesticides


No artificial


Free range


No use of antibiotics


No chemical ingredients

Human and Organic
The key factor of using organic is that it does not make use of chemical pesticides or fertilizers which might pollute water, disturb the ecosystem, and mostly importantly harm our bodies. In a survey conducted between 2011-2015, about 100% of oranges and about 86% of pears had been tested with multiple pesticide residues, which can totally be harmful for mankind. Thus, going organic reduces the risk of going pesticides in our body despite washing and cooking too, as organic do not allow any synthetic pesticides and herbicides such as glyphosate to make a way in our body. The organic not only helps in delivering natural requirements to the body, but also builds a strong immune system too. It's a gem which should definitely be given a shot and adapted for life. Isn't it?

Organic Enhances Wildlife
There is an important fact that going organic farms are bliss for nature, as it not only provides food to the living beings, but also home and shelter to the creatures like bees, birds and butterflies which are an important part of our ecosystem processes. With 50% more abundant wildlife on organic farms, it is a great way to make our farms nature friendly.

KEY ASPECTS:
Since wildlife is depleting day by day, organic going helps in promoting and saving it.


Nourishes the soil nutrients in order to avoid soil erosion, soil pollution and foster worms attack.


Prevention rather than cure means pests, disease and weeds are managed during farming so as nature first aspect is considered allowing bees, pollinators, birds to thrive and carry out the natural processes.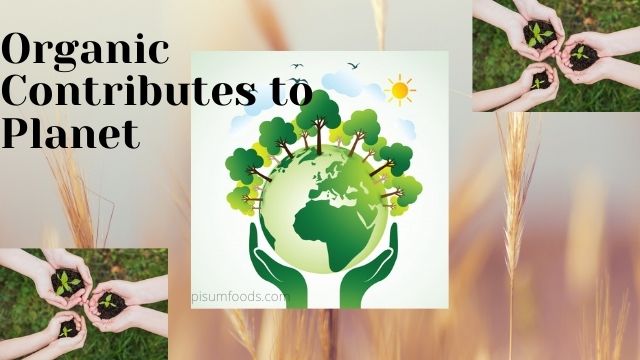 Organic Contributes to Planet
Earth is the only planet where every type of life form exists from animals to birds, humans to biotic, and everyone contributes equally to the ecosystem. But often, intensive use of chemicals causes harm to the land and agriculture which significantly reduces the water and soil contamination and wildlife can thrive as well.

In this scenario, don't you think organic is a breath of fresh air?

Around one- third of the food and farming system is responsible for all the green house emissions. So, avoiding it could lead to disaster to our planet. On the same hand, if we contribute just the half only to organic farming by 2030, the greenhouse emissions could even level up by 23% which means more healthy soil, reduced use of mineral fertilizers.

Organic farming helps in creating a healthy living soil that is more resistant to drought, floods and at the same time impacts climate change too, thus reducing global warming too. To this, various organic farmers select crop varieties for reducing the crop diseases and pests so as there is no need of any chemical substance.

Scientific crop rotation helps to break the cycle of pests, nourishes the soil, and also a particular healthy crop can be grown at a particular climate.

India as A Home Of Organic Farming
About 30% of the agricultural farming in India is based on organic farming. Since India is a country where the majority of the population is dependent on agriculture, therefore use of organic farming is highly practiced here. Some of the national organic ports of India are:-

Organic farming in Tamil Nadu


Department of agriculture of Maharashtra


Website of Sikkim organic mission


Information on organic food