Potato or Solanum tuberosum, is a herbaceous perennial plant in the Solanaceae family. It is grown for its edible tubers. They are quite round in shape with a brown or red skin and white flesh insides. Potatoes grow under the ground. In this blog, we will see the best way to store potatoes, their nutritional benefits, some types of potatoes, amazing potato recipes and their health and medicinal benefits.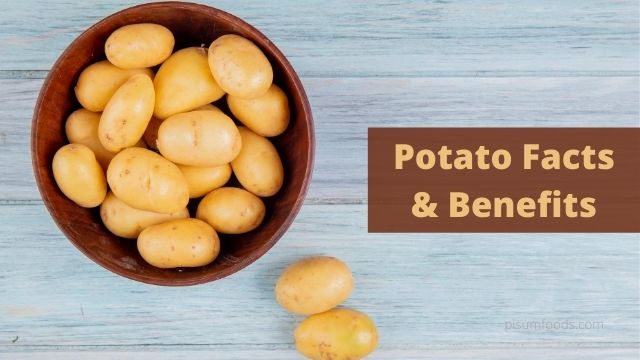 What is the best way to store Potatoes?
Reading a potato store guide is essential in order to know how to store potatoes. Ideally, store your potatoes in a cool, humid, and dark place. If you have an unheated basement or any similar place, that is a perfect spot for your potatoes. An insulated garage or shed may be a good option during the winter. One of the important tips to store potatoes is that you should not store potatoes in a fridge. The cold temperature turns the potato starch into sugar.
What Nutritions potatoes have?
Potatoes are generally low in calories. 100 grams of Potatoes have 77 calories. There is almost no fat, sodium or cholesterol in potatoes. There are many potato nutritions. For instance, potatoes have almost 32% of Vitamin C in 100 grams of potatoes. Potatoes have more potassium than a banana. They are also good sources of vitamin B6 and are rich in Fiber, magnesium and antioxidants.
What are the types of potatoes?
There are various types of potatoes grown in different parts of the world. Here are some of the major potato types:
Russet Potatoes
This is the variety of potatoes which most of us eat as classic potatoes. These potatoes are ideal for baking purposes and also taste good fried or mashed.

Jewel Yam
The Jewel Yam variety of Potatoes is primarily a sweet potato. This variety is one of the most commonly found market sweet potatoes. These potatoes taste delicious baked or roasted.

Japanese Sweet Potato
This variety of potatoes have a pink to purple skin with white flesh. The flavour of these potatoes is sweet and nutty. This variety of potatoes can be grilled, steamed or baked.

Hannah Sweet Potato
The Hannah sweet potatoes are very similar to the Jewel potatoes. But this variety has lighter skin and flesh.

Rose Finn Apple
This variety of potatoes is an heirloom fingerling with pink skin and golden buttery yellow flesh. These potatoes have an earthy flavour and are great when boiled, grilled, sauteed, deep-fried, or served in salads.
Ways to Cook Potatoes
You can cook potatoes in various ways like Au Gratin, Baked, Mashed, Roasted and Scalloped. Here are some basic steps you should know while cooking potatoes in various ways:
AU GRATIN

Preheat the oven to 425°F.

Peel the potatoes and slice it into thin slices with a knife or a mandolin. You can also use a food processor in this step.

Grease your baking dish with butter.

Lay the potatoes into the dish. After each layer, season it with salt and black pepper.

Pour the Half & Half mixture over the layered potatoes and push it down to immerse all the potatoes in the cream.

Bake at 425°F for around 50-60 minutes covered with foil, until the potatoes are cooked.

Then take the foil off and bake for about 10-20 minutes until the top is golden.

BAKED
Prick the potatoes with a fork a number of times and place them on a plate.

Cook them on full power in the microwave for around 5 minutes. Turn over and continue to cook for 5 more minutes.

When the potatoes are soft, remove them from the microwave and cut in half lengthwise. Place 1 Tablespoon of butter in the centre of each potato.

You can also add additional toppings if desired.

MASHED
Peel the potatoes and then cut them into about equal sizes.

Bring a pot of water to boil and add your potatoes. Keep boiling and cook the potatoes for around 30 minutes then drain the potatoes.

Put the potatoes that you drained back into the pot and on the burner on low heat. Now just mash them with a spoon or a potato masher.

Add butter, cream cheese, milk, black pepper and salt and whip it until creamy.

ROASTED
Preheat the oven to 375°F. Prep a large pan with parchment paper on it.

Scrub the potatoes and cut them into bite-size wedges. In a large bowl, toss the potatoes with the oil, salt, and pepper.

Spread the potatoes into one layer on your baking sheet and bake them for around 40 minutes until browned and tender when pierced with a fork. Serve the potatoes when hot.

SCALLOPED
Preheat the oven to 400°F and wash, peel and cut the potatoes in thin slices. Make sure the slices are all about the same thickness.

In a medium-size saucepan, melt the butter with a half cup of milk. Once melted, mix in the flour and whisk until smooth. Then cook for a couple of minutes.

Stir in the rest of the milk some at the time while whisking. Cook the white sauce until bubbly and thickened for around 5 minutes, stirring occasionally.

Season with salt (as per taste) and nutmeg (as per taste). Grease a round 10.5-inch quiche pan.

Spread a layer of the potatoes slices on the bottom of the baking dish and season with salt and pepper, and top with some of the besciamella sauce.

Make two more layers of potato and white sauce and sprinkle Parmesan cheese on top.

Cover with an aluminium foil, and bake it at 400°F for around 30 minutes covered. Uncover and bake for an additional 30 minutes or until the potatoes are tender.

If you wish, boil on high for one minute until nicely browned.

Let it stand for about 5 to 10 minutes before serving. Sprinkle the top with chopped parsley and serve.

Potato Recipes
Potatoes are required in several recipes. In fact, potatoes are one of the main ingredients in various recipes in cuisines around the world. Here are some amazing recipes which you can try at home: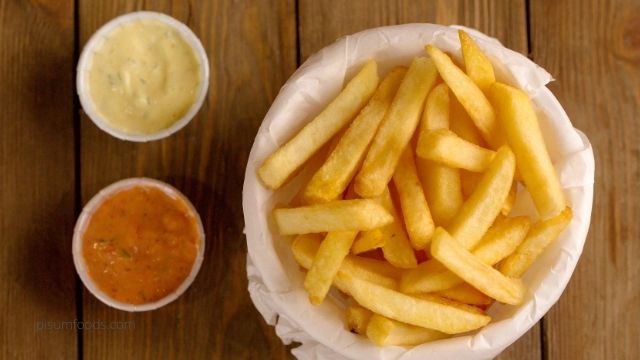 Vegan Mac and Cheese

Ingredients Required:

4 small yellow peppers

½ of a yellow onion, medium dice

1 teaspoon garlic powder

2 tablespoons olive oil

¼ teaspoon cayenne

¼ teaspoon white pepper

2 teaspoons Kosher salt

¼ teaspoon turmeric

2 garlic cloves, peeled

2 cups dairy-free milk (almond, cashew)

2 cups of water

3 medium-sized yellow potatoes, large dice

1 carrot, large dice

2 Tablespoons fresh Lemon juice

2 cups cooked Pasta

How to make Vegan Mac and Cheese?
Set the oven to 325°F.

Coat the peppers, onion, and garlic with oil and seasonings.

Roast for about 15 minutes. Remove stems and seeds from peppers when done.

Combine yellow potatoes, carrots, roasted veg, lemon juice, milk, and water in a stockpot.

Add more water if needed to cover the vegetables. Simmer until the potatoes are tender and then blend.

Taste and adjust the flavour and seasonings if needed.

Toss it with cooked pasta in a hot pan.

Plate it. You can also top it with chips.

Potato Chocolate Cake Pops Ingredients -

1 cup unsalted butter

2 1/4 cups sugar

4 large eggs

1 1/4 cups cocoa powder

1 teaspoon salt

1 1/2 cups flour

3 Tablespoons potato flakes

1/2 cup water

1/2 cup whipped cream

Confetti sprinkles

How to make Potato Chocolate Cake Pops?

Preheat the oven to 350° F and lightly grease a 9 x 13 pan. Combine all the ingredients together. Pour the batter into the prepared pan.

Then bake for around 30 minutes or until the edges of the cake look set and a toothpick inserted in the centre comes out mostly clean. Cool it down.

Crumble the cooled cake into the bowl, add whipped cream. Measure 1 Tablespoon of moist cake mixture and roll into a ball. Place balls on a lined baking sheet.

For the coating, melt the chocolate in a double boiler or microwave, add vegetable oil.

Insert the lollipop stick into the cake ball and dip it into the coating until it is completely covered. Then add sprinkles.

The coating will set within an hour. Store cake pops in the refrigerator.

How are potatoes beneficial for our body?
Potatoes are said to be beneficial for the body in various different ways. Here are some health and medicinal potato benefits:
Reduces Inflammation
Potatoes are said to soothe the stomach and duodenum ulcers and reduce stomach acidity. They may also help you relieve the inflammation associated with arthritis. But eating too much of anything is also not good for your body! So, eat in moderation.

Help regulate Blood pressure
Potatoes can also help you regulate blood pressure. Potatoes have around 100 calories but are highly nutritious. You should be careful about the way you cook your potatoes. Potatoes are said to be great for people with high blood pressure and water retention as they balance high sodium levels.

Calming Effect
Potatoes are also said to be a 'healing food', especially with its white flesh. The potato flesh is rich in tryptophan, an amino acid with natural sedative properties that help calm the nerves.

Good for the heart health
Potatoes have no cholesterol and thus they are good for your heart health. It is only the oil and cholesterol-laden ingredients you may use while cooking which can make it a threat to the heart. Potatoes also contain heart-healing antioxidant anthocyanins.

Good for Brain Health
Potatoes have alpha-lipoic acid. It is a coenzyme present in the potatoes that can help boost overall cognitive health. Some experts link this acid to have beneficial effects on Alzheimer's patients as well.

Promotes Digestion
The high fibre content present in the potatoes aids smoother digestion. The Fiber in the potatoes supports digestion and promotes bowel regularity by adding bulk to stool.