Due to climate change being recognized as a problem, we as humans have started preserving the Planet by using recycled things like glass, paper, compost, organic waste, reusable bags, and so forth. Food is a common substance produced by the Planet and consumed by us.

We know about eating vegan or vegetarian, but it's high time. We talk about sustainable diet is Important and will save our environment and ourselves along with the future generation of humans. In general, the term "Sustainability" is the capacity for human beings to live well within the Earth's ecological limits.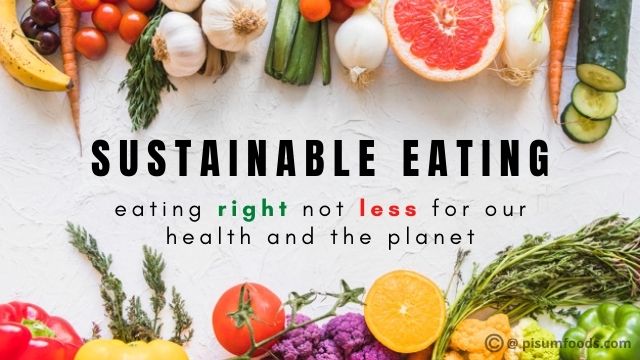 Sustainable eating plan is choosing foods that are healthful to our environment and our body. It can be possible through Sustainable Agriculture that enables us to produce healthy food without compromising the future generation's ability to do the same. Sustainable eating has everything to do with the global food economy and unhealthy eating lifestyle that leads to sickness, and feeding the poor so that no food goes wasted, and no one remains hungry.

According to the EAT-Lancet Commission in America on Food, Planet, and Health, it reported by 37 scientists in January 2019 that a sustainable diet for the planet aims to establish saving the Planet by combating chronic diseases, and it could feed nearly 10 billion people. The report does not insist that you become vegetarian or vegan but reduce any meat consumption to once or twice a week between 3-6 ounces per serving.

Factors that Contribute to Sustainable Eating:
Organic Food Movement
In India, sustainable healthy eating can empower our farmers as well. We must intake organic food as it is pesticide-free, nutritional, and beneficial to farmers as well as the environment. Organic farming is prevalent in Gurgaon as a group of people started a community.

Organic farming initiative in October 2016, and it has also started in Mumbai by Kavita Mukhi and Pune by chef Karen Anand as well since 2010, and organic markets have been growing in Chennai as well. Sikkim was the first state to be known as India's first fully organic state in the year 2016.

Purchase of Local and Seasonal Produce
Buying directly from local markets gives access to Fresh things and Benefits our local farmers as well. Seasonal produce is also Important because eating fresh is better than eating from cold storage.

It's more cost-efficient as well, and your local lender doesn't charge you with GST (Goods and Services Tax). Moreover, high-end restaurants have also realized this benefit of sourcing locally and adapting gourmet recipes to include ingredients sourced from local farmers and producers.

Grow & Cook Your Food
Due to sustainable eating, Kitchen gardens are back in the trend. Urban horticulture enthusiasts are cultivating on their terraces and balconies to set up innovative gardens at home. It has led to the growth of hydroponic farming, greenhouses, and tools like altifarm, a mobile tiered garden, and various more methods to start gardening within small spaces at home.

We Indians traditionally started making our pickles, sweets, and snacks, and we can add foreign flavors as well as other cultural foods to follow the same criteria that can help us to maintain sustainable eating.

Donate or Reuse Your Food
Food waste may be Largely biodegradable, but the lack of proper segregation and increasing food wastage leads to waste management gradually contributing to the food crisis. Plan your shopping and don't cook more than needed. You can use peels and organic waste to make fertilizers in your garden.

If you have food leftover, post any function or party, donate it. In India, organizations like No Food Waste, which operates in cities like Chennai, Delhi NCR, and Ahmedabad accept excess items from party venues and restaurants to feed the underprivileged and homeless.

Importance of Sustainable Food Supply:
Today more than 3 billion people are malnourished, and at the same time, the world's population is rapidly growing. By considering sustainable food development, the ultimate goal becomes to ensure a sustainable future when this expanded population has both enough food available to eat and access to high quality, nutritious foods.

That is where "Anthropocene" comes into the picture. Which is described as the current geological epoch, a period defined by humanity being the dominating driver of change in the geologic, biospheric, atmospheric, hydrologic, and other earth systems. The term "anthropogenic" tends to "originate in human activity."

When it comes to anthropogenic activities, agriculture is the largest cause of global environmental change. Food production contributes approximately 30% of global greenhouse gas emissions, and the livestock sector alone represents almost half of these emissions.

It occupies near about 40% of global land and uses 70% of freshwater, and It is the largest threatening factor for extinction species. It causes eutrophication (nutrient overload) and dead zones in lakes and coastal areas. It has led to a majority of the world fish stocks to be fully fished or overfished, and only 7% are under fished.

Such global environmental change increases the risk of irreversible and catastrophic shifts in the Earth system marked by rising conflict and food insecurity. Global food systems are not sustainable.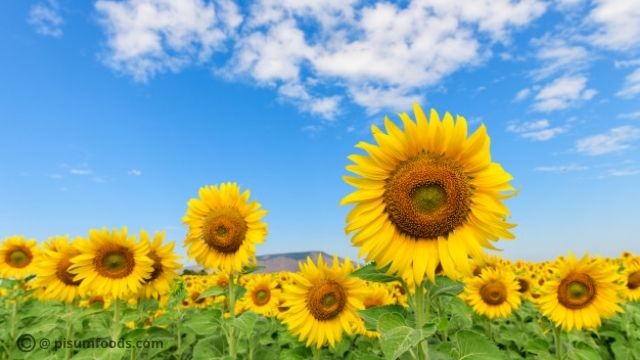 Agriculture is simultaneously a driver of global environmental change and a victim of shifting environmental conditions. Therefore, there is a dire need for policies to improve the availability, access, and affordability of healthy foods, while disincentivizing the consumption of unhealthy and unsustainable foods. It is also Important to reorient agricultural priorities from producing high quantities of food to healthy food.

Secondly, using technology and system innovation becomes suitable to farm existing land with fewer inputs to experience better yields, sequester carbon, and conserve existing biodiversity and ecosystem. It can be possible from collaborative efforts from governments, the private and public sectors as well as individuals to achieve a healthy and sustainable food system, as it is an urgent matter to be considered.

If we talk about supply and demand, they work both ways, and therefore, a shift in the food production landscape depends on our diet. We must be aware that our food choices ultimately impact more than just ourselves, and primarily plant-based diets are best for both health outcomes and environments. Hence, sustainable eating habits are the need of the hour for us to survive longer and live healthily.