Technology is not often the first thing which comes to mind when it comes to food however food products are manufactured for specific purposes. Seen by time immemorial, grains were dried to improve their shelf-life after harvest. Starting with, the food was primarily processed to improve digestibility, storability, and to guarantee the continuous supply. Pickles, Murambbas, and papads in India are great examples of that. Types of preserved items produced from other fruits/vegetables/cereals.
With time, transport changed, communication and rapidly increasing industrialisation have been the needs of customers, food manufacturing and development has become more varied and thus, demand for easy products, 'new' and 'all-natural' ingredients, 'safer and better' products and ingredients with sufficient shelf-life is now growing. Consumers demand better-quality products with nutrient preservation, with different functional properties and taste/texture/consistency several times, thus being healthy and simple to prepare, store and transport. This has served as a stimulus for researchers to develop food production processes and procedures in a way suitable to the product.

Products must satisfy customer expectations and specifications. All of us eat ready-made meals. These include pizza, cookies, pickles/papads, and food items like curries ready-to-eat, meal items, snacks and many more. Such foodstuffs and other methods and innovations are generated utilizing a range of easy conventional approaches and are often used by others, although more modern processes yet technology is used to manufacture bulk packaged food. The planet now has more than 7.5 billion people and this means a greater need for food every year. By using tech to increase manufacturing and storage, it will improve customer health and shelf-life.
Introduction of Technology to Food Processing
Food Engineering work has been continuing for decades. In 1810, it was a crucial improvement in the canning cycle event. Canning has a significant influence on the methods for storing food. Earlier on in 1864, the work by 'Louis Pasteur' on the spoilage of wine and its description was an early effort to bring agricultural science on top for how to prevent spoilage. Pasteur performed research, in addition to wine spoilage on tobacco, sugar, wine, brew and milk processing. He developed 'pasteurisation', the milk care cycle to kill bacteria from the milk. Pasteurisation was a significant move forward in ensuring Microbiological Crop Health.

At first, food processing was used to meet military needs. In the 20th Century, because of world wars, space travel and rising needs for diversity, market goods were influential in the development of food production. Things include fast soup mixes and ready-to-cook items like menus were established to address the demands of working women in particular. Health experts were challenged in the 21st Century to produce health-savvy diets and other rising market needs. Food processing has offered a broad variety of nutritious and convenient foods. This constantly growing and evolving sector in developed countries has helped to increase the food quality and opened up markets for jobs at all levels.
Role of Technology in Food Processing
Specific techniques are required to transform heavy, perishable and mostly inedible products into more usable, refined, shelf-stable and ready to eat snacks or beverages. Changes in products also cut down on cooking preparation time. Food processing brings importance to the final commodity by increasing the storability, portability, flexibility and digestibility. Professionals employed in the food manufacturing require to be conscious of general functionality in fresh foodstuffs, food security standards, production factors that impact consistency, labelling, water management and waste management, fine manufacturing methods and techniques for sanitation.

The food processing and preservation are therefore essential to help preserve food that comes in a nutritious and edible shape. Methods of storing food from spoilage, farming or slaughtering come from ancient periods. The oldest methods were sun drying, fermentation regulated, salting/pickling, Candy, fry, burn, cake and were used as preservatives. These tried and tested methods are still used with the advent of modernization and the creation of revolutionary technologies. Most food processing activities aim at maximizing the shelf life for the foodstuffs.

The principles related to food production decrease to eliminate microbial development and other contributing factors trying to spoil food and the specific microorganisms which trigger food spoilage. These involve microbes, fungus, yeasts and moulds. The key elements of the preparation of foodstuffs to prevent from spoilage of the meal are:

Presence of heat

Removing moisture from food

Decreasing food temperature

PH-reduction
Controlling the presence of oxygen present in food

Types of technologies used in food processing
A new day comes with new challenges and rewards and it depends on us how we will deal with it. The world is moving ahead at a never returning speed and every day new inventions are happening throughout the world to make life easy with less usage of time to get great benefits. When it comes to the food sector, technology has changed from dusk to dawn over the years, as it has improved the way we generate and locate our food utilizing machines, software's, robots, data, and processing techniques like 3D printing, etc.

The use of machines often guarantees efficiency and sustainability in the food industry. It cuts down the expense of maintaining the food fresh by utilizing robots and improves efficiency.

Robots may also reduce health issues for the more hazardous food sector workers. They will avoid other job casualties by using robotics to harvest the tougher of the meats. This is just one of the many aspects in which innovations will boost the industry.

3D printing has already taken off in several sectors over the last few years and the food business is one of them. This opens the door to creativity and will produce other innovations that we have not been able to achieve before, but still dealing with food security.

In terms of how innovations will make a difference, precision agriculture is a major feature. To increase farm efficiency, using GPS tracking systems and satellite imagery to monitor crop yields, soil levels and weather patterns would be a suitable option. Not only do they see everything that's going in the fields, but they can still use the analysis of the findings to check the soil and crop quality.

A big aspect that they achieve is indeed by utilizing drones. These drones will detect and recognize crops that have been diseased or harmed, and automatically react to them. Using these drones may not remove the need for food workers, but helps to allow their jobs to be more productive.

Food Packaging and its Waste Management
One of the main market issues currently is getting products that are safe and affordable. Consumers pay attention to labelling and unhealthy ingredients. Many industries employ technologies to help them "go green." Businesses in the food sector may find solutions to chemicals and other hazardous products for the atmosphere by incorporating automation and digitizing. There are also specific areas in which we can utilize innovations in packaging including food products, micro products and also packaging fighting bacteria.

Consumers are now searching where businesses purchase their goods and how they manage their waste. With the aid of automation, measures are being made to minimize the amount and utilize the excess food. For all these new advancements, there are so many various avenues where it will improve how we manufacture food. The secret to ending global poverty and addressing our waste crisis may be emerging technologies.
Use of Modern Technology in Food Processing
Modern technology includes organic fertilizers, herbicides, new equipment for forestry, artificial selection and all are used to improve the production of food. Production and usage of organic fertilizers in the soil increases nitrogen on farmland and helps rising crop yields. Creation and use of pesticides such as insecticides and pests help to destroy fungicides that feed and damage crops. Creation and use of weeds kill herbicides that compete with crops to maximize crop yields for nutrients.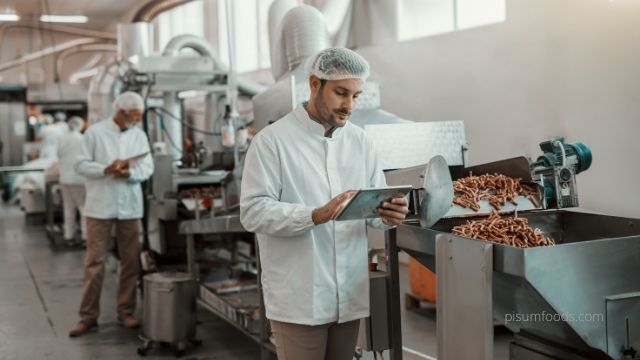 Using modern machines, such as tractors and mixing harvesters will make more effective production of land and crops. Other events include artificial selection to develop plant varieties suitable to particular environments and soil conditions and animal breeds for different purposes such as optimal development of beef, milk, and fur; Usage of yeast and bacteria in large-scale processing of bread, beer and food, yoghurt and cheese; Use of bioactive compounds in plant growth and fruit production; Continuous creation of water plant systems in greenhouses and plant growth in nutrient solutions.
Scope of Technology in Food Sectors
The market for processed fresh, packed and easy food has more shelf-life in the food industry and needs well educated human resources. This includes science and technical approach to the manufacturing, usage, storage, labelling, produce and fuel delivery items that include a variety of specializations. There is a request for chemicals-free foods, pesticides and preservatives which have a longer shelf life and maintain their natural properties. Flavours and beauty of products are rising increasingly.

Everything that has linked up food production and technology is a significant discipline and there is a big competition for the technologists in milk because of its properties. Indian large agricultural resources alone generate tremendous investment opportunities in their food processing and machinery industries. Significant value-added production sectors are in the canning, packing, meat and poultry manufacturing services, frozen poultry and thermo-processing industries.

India's government has declared the formation of large food production projects to improve food manufacturing in India. There are too many innovations, such as warehouse management devices and autonomous controlled vehicles, which are growing in popularity. It helps supermarket activities – picking precision and a reduction in mistakes – building a productive atmosphere and improving food sector efficiency. Organizations are taking distribution centres, organized, stages and sequenced to easily clear shelves on the same day and maintain the food and drinks packed. There are several operations which find the flow-through sorting method to simplify the task of restocking.